[ Hideous Hardbody ] [ A/C ] [ Bodywork ] [ Bushings ] [ C-Notching ] [ De-Arced Leafs ] [ Driveshaft ] [ Drivetrain ] [ Exhaust ] [ Lowered ] [ Wipers ]
After lowering the truck, I had come to believe that the driveshaft was bottoming in the transmission on full droop.
I knew it would bottom on full droop, I checked.  But I thought this might also be an issue as the leaf springs wrapped on deceleration.  I thought I could hear the driveshaft grinding away on the tailshaft in the transmission.  The only fix is to shorten the driveshaft.  I figured an inch oughta do.
(Caveat Emptor – this might not be the best way to do it.  It worked for me.  It might kill you.  Pay someone to do this.)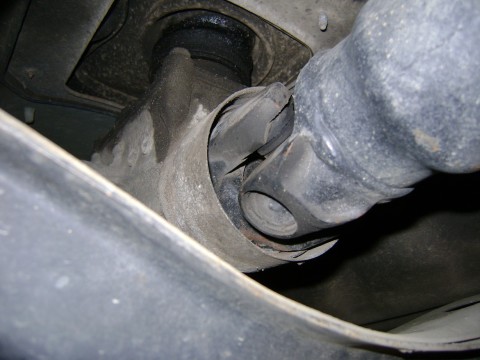 Notice how far the forward driveshaft is shoved into the transmission.
First, I picked up a driveshaft from the wreckers: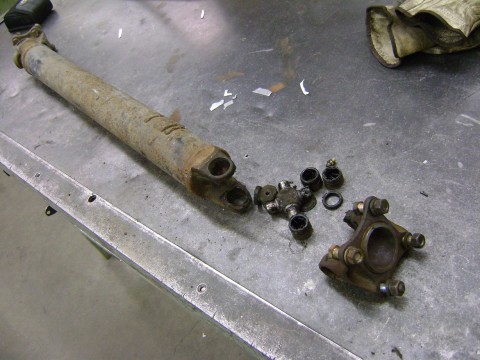 The Nissan Hardbody driveshaft has non-replaceable universal joints.  These can be replaced with Rockford #430-12.  Disassemble the end you want to shorten.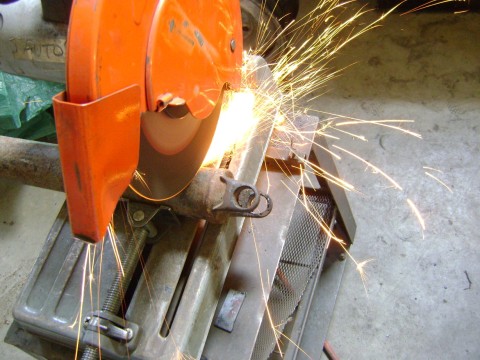 Centerpunch some alignment marks (you must ensure correct universal joint phase on reassembly).  Cut about an inch from center of the weld, check the tube end for square and correct if need be.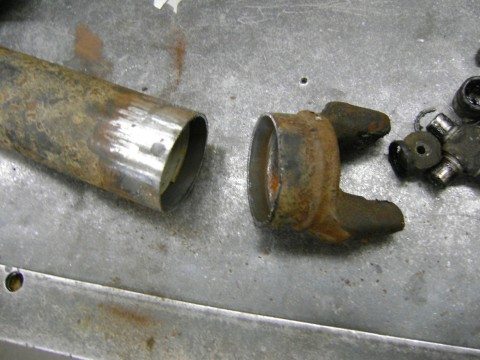 Looks like you have about 5/8 to 3/4″ of  stub in there.  You don't want to cut that any shorter.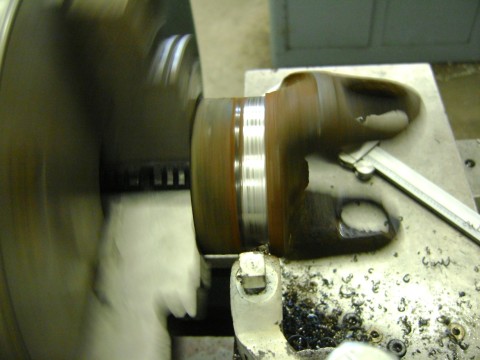 Chuck the stub end into the lathe, correct any wobbles, and gently cut half the weld bead to a square shoulder. Then keep cutting more and more of the tube away to the square shoulder.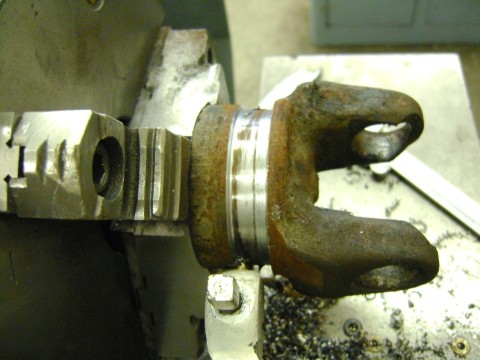 You will see it when you cut the tube down to the end of the stub.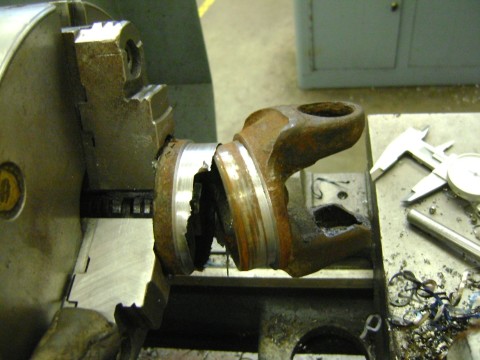 Eventually it just falls out.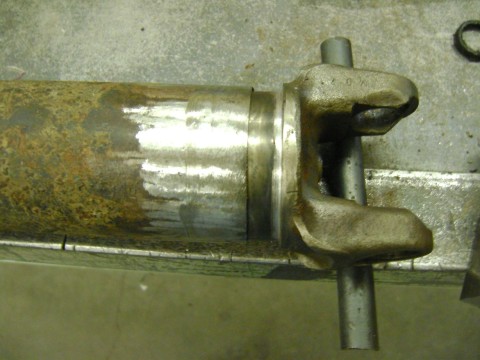 Line everything up, and press the end in.  This driveshaft could be tapped together.  I've done GM shafts that need a hydraulic press to assemble.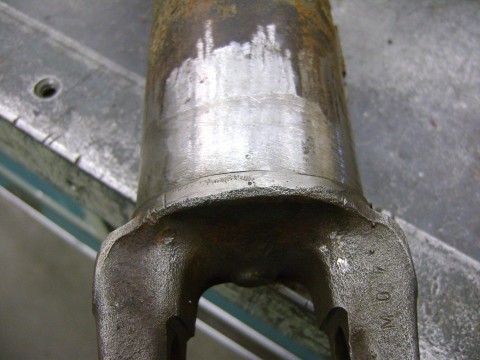 Here are the alignment marks I mentioned earlier.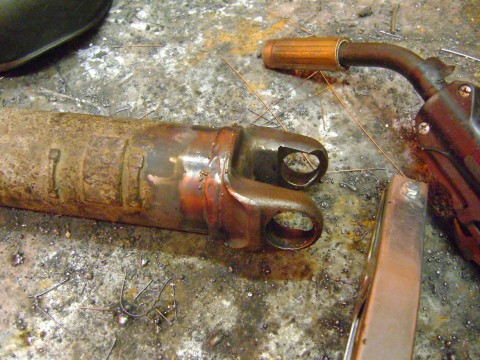 Give it a good thorough weld.  Best if you have some sort of apparatus to slowly rotate the driveshaft whilst you weld.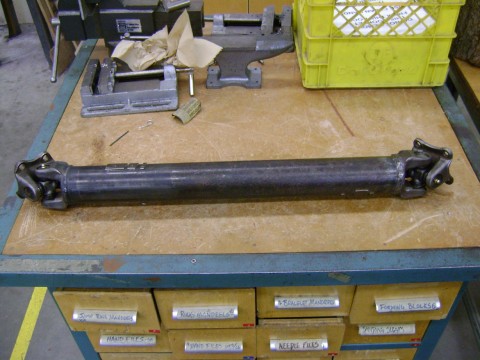 I installed new universal joints on both ends (I'm not outlining how that is done here).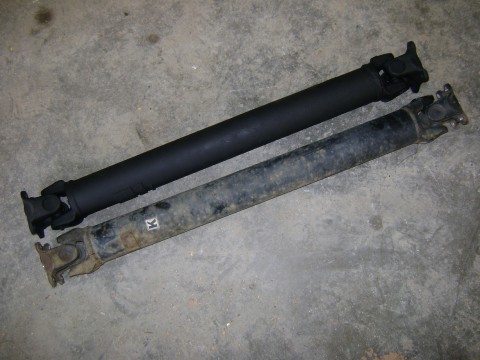 Here's the difference – a tick more than 1″ shorter.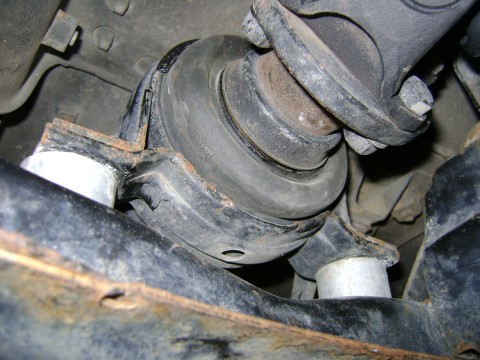 I had to pull the driveshaft back a bit, which stretched the carrier a bit.  I "adjusted" the carrier bracket so it would fit nice.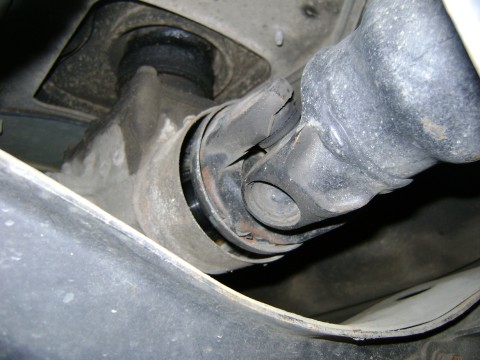 Ah crap.  1/2″ too short.  Oh well.
Improvement?  Yes. Reasonably significant.
While the "issue" of the bottoming driveshaft was not glaring, the results were not glaring either. However, the overall "feel" of the truck has improved, especially over nasty bumps.
You know how a tired, worn-out vehicle has all sorts of odd rattles and clunks?  Despite all the shocks and bushings replaced, my truck felt really tired and worn.  After shortening the driveshaft, that feeling went away.  It feels like a nice, tight little truck.  I like it.