I've been planning this shop for so long, I began calling it The Fictitious Workshop.
The plan (after about four iterations, weighing all the pros and cons and limitations of each):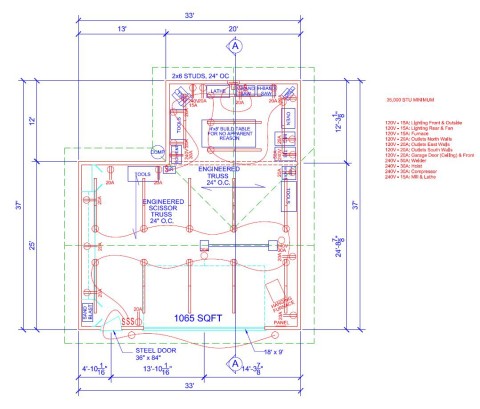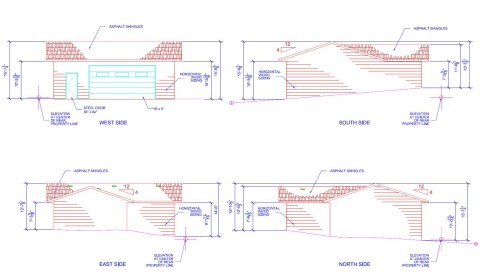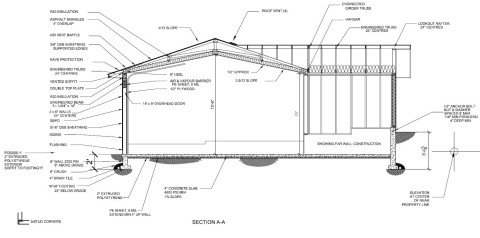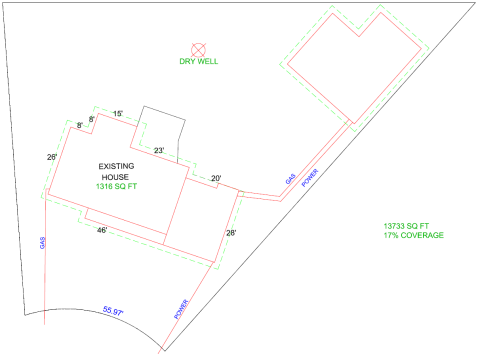 Pulling down one of the old sheds

Dropping the spruce.
Hmmm. Kinda wish I dropped that tree years ago. I like the space it opens up.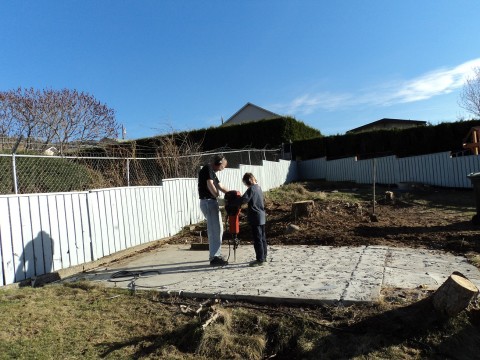 Busting up the concrete pad from the Green Shed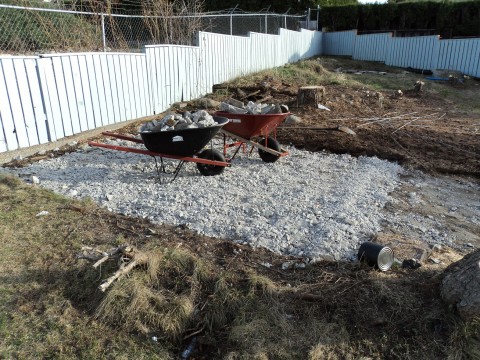 4500lbs of concrete to the dump, and still more to go.
---
Finally.  Digging.  And rocks.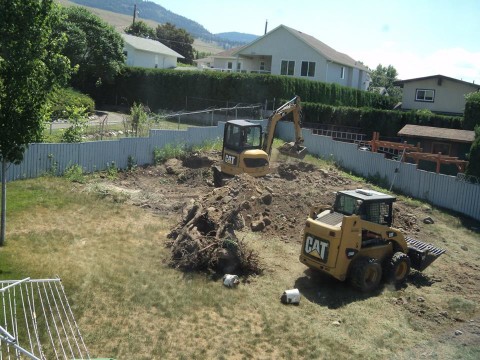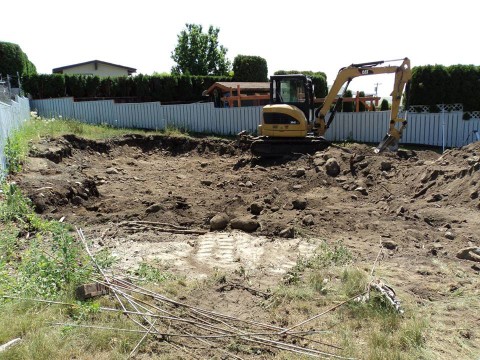 ---
Day two of digging. Probably another two days to go.
It's at times like this that I think "Oh my gosh. What have I done…….?"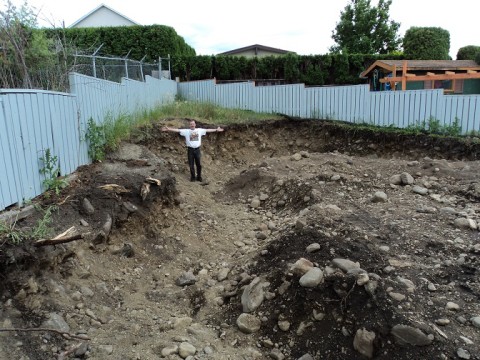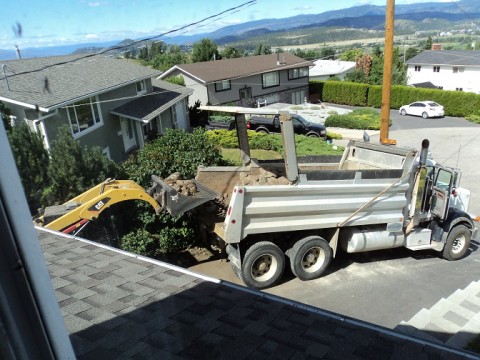 Three days of digging and the foundation is dug out.
---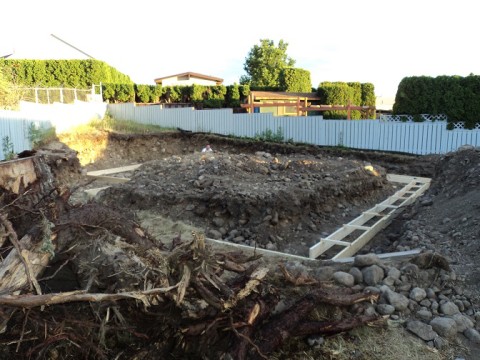 Starting the footing forms. 8″ is required. A workshop is never big enough. So…. I'm building as big as I can. That's me…… at the back.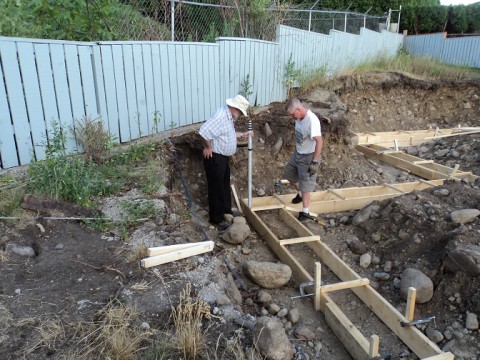 Pops and me leveling the forms
---
Concrete day!  Only 38°C too!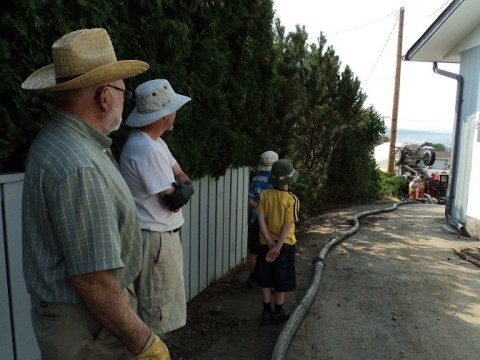 Pump Pro arrives, along with OK Ready Mix.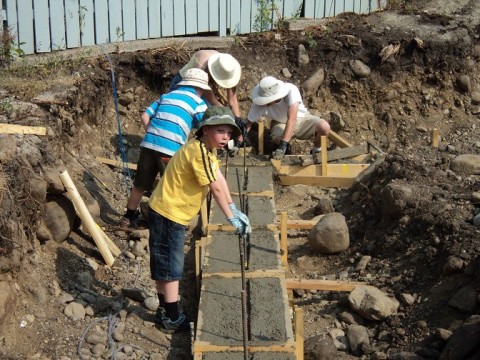 Working furiously to screed, key, and set rebar.

45 minutes and the job was done.  As of this writing, I think I am physically dead.
As I understand it, no rebar is required.  ?!  I know, right?  I put two rows of 5/8″ rebar inside the footings.
---
Pops and me setting up forms.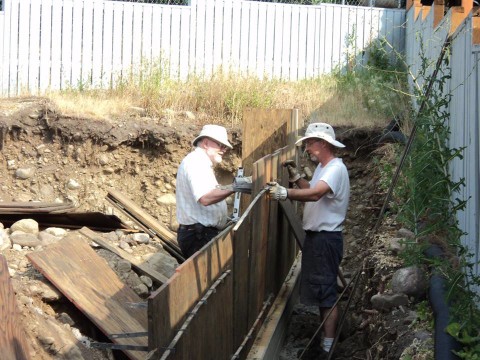 More progress: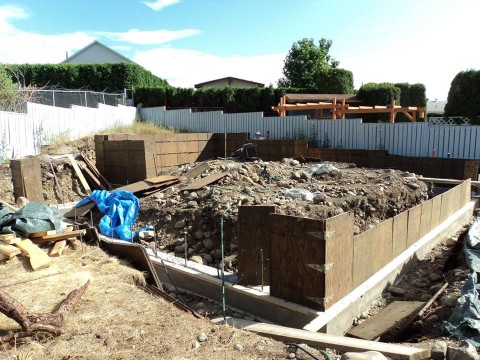 Passers-by ask if I'm building a pool.  Yeah.  The shallow end is the closest.  That far end over there?  That's the deep end.
---
---
Need an exit trench for the drain tile before drain rock, need drain rock before inspection, need inspection before backfill. So… I rented one of these gems. Might as well trench for gas, electrical, and communication lines to the house while I'm paying for the rental.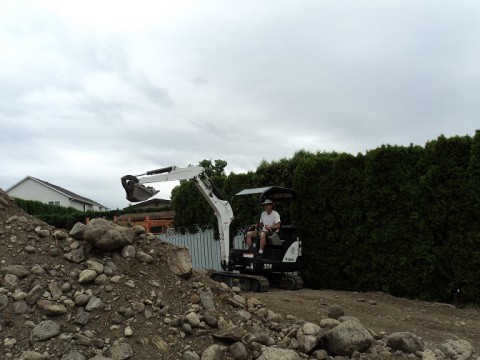 What a workout! Four hours behind the sticks and this flabby-butt 40+ year old school teacher is beat. Got another hour to go…. tomorrow.
---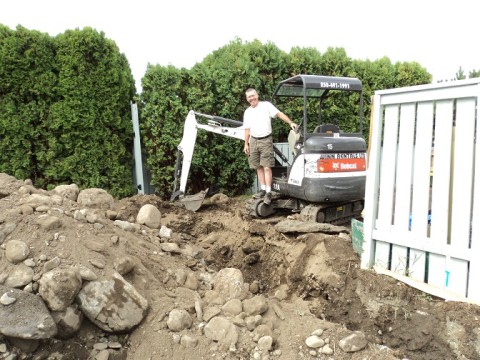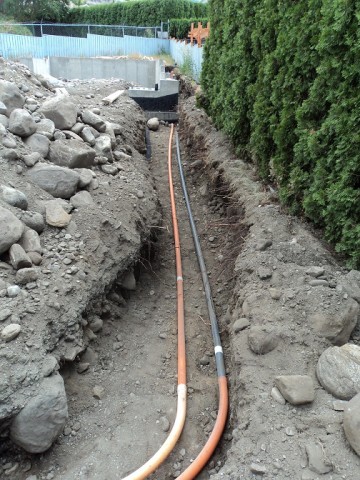 Conduit for power and communications. Waiting on gas line.
---
Two coats of damp-proofing was rolled on.  Why two?  Dunno.  Seemed like a good thing to do.  The can suggests two coats for maximum protection.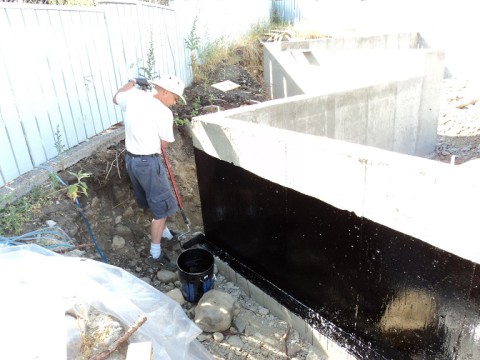 Drain Tile & Drain Rock
Drain Tile runs around the perimeter, then exits away from the foundation a distance of 15′. I dug the exit downhill, so that it would encourage draining. The Canadian Wood Frame House Construction book says that drain pipe ~should~ have a sock around it to prevent stuff from getting into the pipe. Home Depot sold some with a sock already on it, so I bought that. Pops says this soil isn't going to be an issue enough to need a sock, but it's a lot better to ~not~ have to put one in afterwards.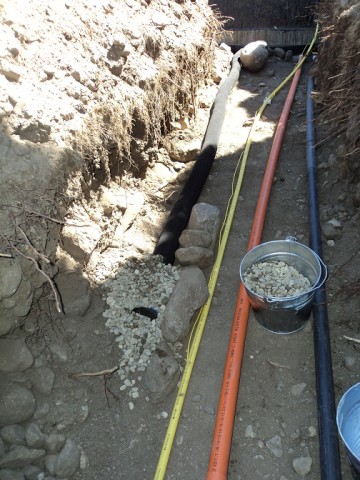 Drain tile exit has a louvered cap on the end. I figured this would help hold its shape better and not crush. Started covering with 1″ round drain rock from Pier Mac Sand & Gravel.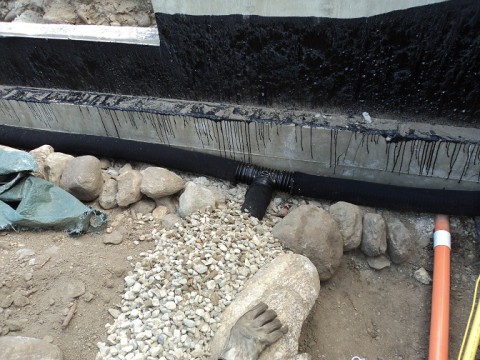 Dump truck won't fit; Stone Slinger can't reach; Bobcat can't get in; drain rock is placed by hand.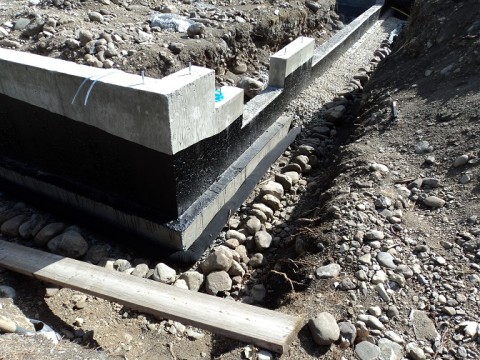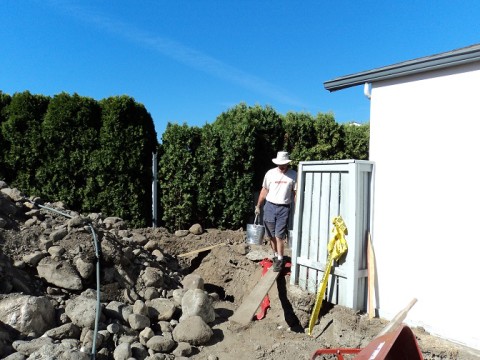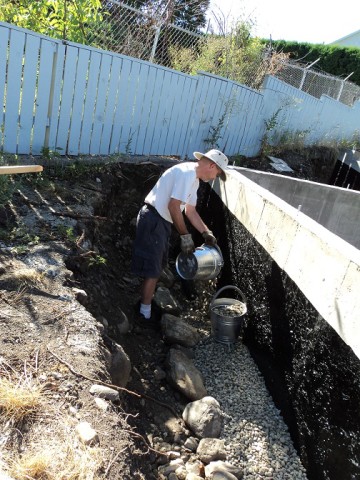 Yes. All the drain rock was placed by hand. Worked out to just under 10,000lbs of gravel all via a spade and two buckets. I think my arms are longer.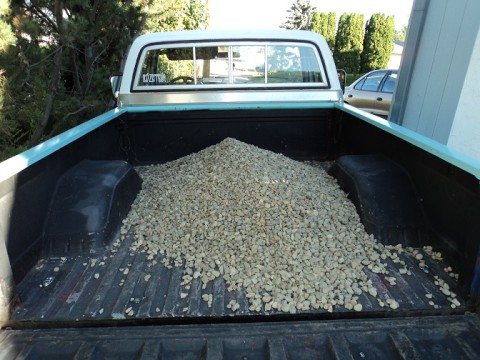 Turns out my lowered pickup is, well, too low. The shocks are bottoming out, and once I find shorter shocks, the pumpkin itself will then start hammering & re-shaping the bottom of the bed….
---
Filling the trench.
Lucky me – by this time I had already installed shorter rear shocks on The Crusty Chevy (73-87 4WD fronts), so I should be good to go!
The first load they dumped in my truck came out a bit quick. With 1700lbs in the box, the shocks weren't bottoming out – but the box floor was now indeed sitting on the axle pumpkin. I drove gingerly back to the house.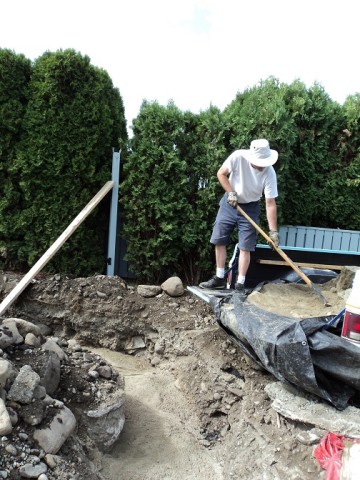 I got 7 loads done today – 7600lbs of sand. Might be able to finish tomorrow.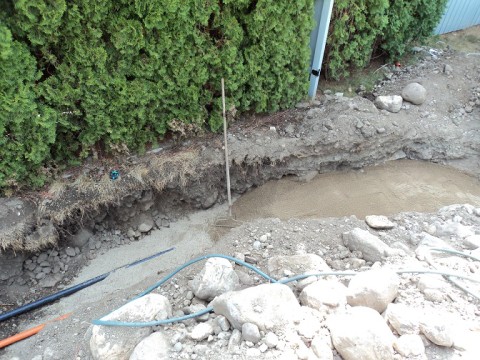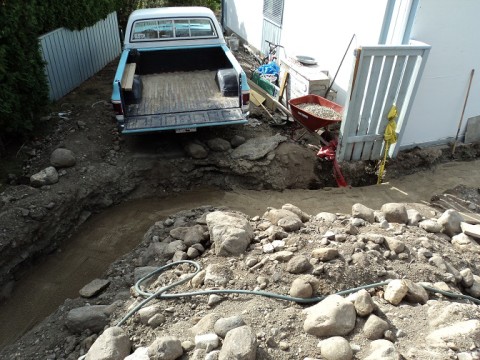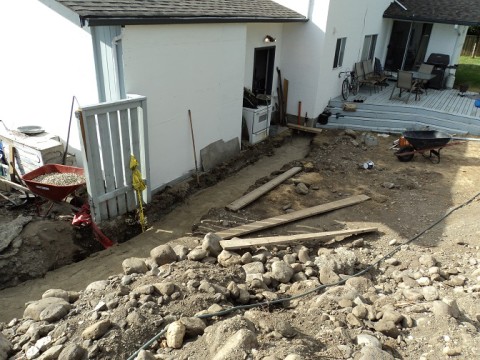 View out back from the top of the dirt pile: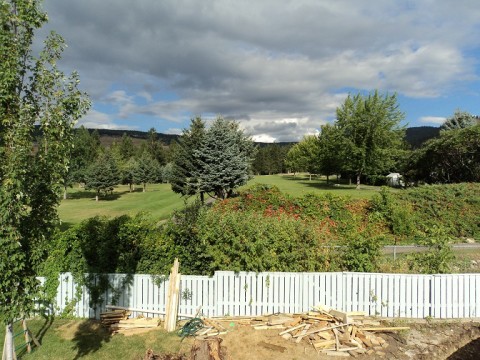 View of the workshop, again, from said pile: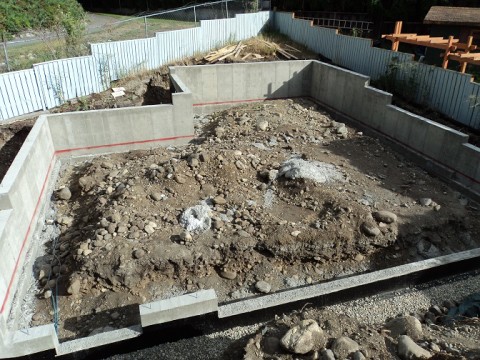 ---