[ Sinister Sentra ] [ Wheels & Tires ] [Bushings ] [ Springs & Struts ] [ Sway Bars ] [ Alignment ] [ Drivetrain ] [ Miscellaneous ] [ Racing ]
OEM Wheels
My Sentra came with a set of Michelin XGT 4 P175/70R13 all-season radials. Whether these are the original tires or not, I do not know. They had quite a bit of tread remaining on them, although they did seem to hydroplane easily.
I took these tires off, and mounted the Toyo Proxes RA-1 185/60R13 tires on the factory rims to finish the 2001 CACC Autocross season in H Stock.
That fall, I sold what was left of the tires and used the rims for winter tires.
OEM B13 Wheels
Diameter: 13″
Width: 5″
Offset: 40mm
Backspacing: 4 5/8″
Bolt Circle: 4 x 100mm
Hub Centre: 2 11/32″
Winter Tires
I am a believer in winter tires. To me, "all-season" means "not-winter." I have used a variety of winter tires on all my cars, from the antiquated chunky-tread Marshalls that worked in snow and nothing else, to Toyo G02′s – comparable to Bridgestone Blizzaks.
I bought a set of Kumho KW 7400 winter tires which stick really well in snow and ice, and are pretty cheap to boot! They are less of a tire than a G02 or Blizzak, but I am pleased with them. They do tend to "whine" on wet roads, but all in all a good snow tire.
The Kumhos lasted three winters and were replaced by Cooper Weathermaster XGR tires. Pretty comparable to the Kumhos.

Kumho KW7400

Cooper Weathermaster XGR
Street Wheels
I had originally planned to keep the 15×7″ Centra rims from the Heinous Honda, but decided against it for a few reasons: The rims were horribly messed up and could not be effectively balanced, and they were offset such that they would not fit under the fenders of a lowered Sentra. They also did not have a sufficiently large enough center to fit the Sentra's hub – the cost of machining would equal the cost of new rims!
I bought a set of 15×6.5″ rims for cheap at Kal Tire, apparently a now discontinued model. I am unsure of the brand name of these rims. The rims looked absolutely stunning on the Honda, and now just look classy on the Sentra. They have an offset of 38mm, just a wee bit less than the Sentra's 40mm factory offset. Much more driveable!
I had to purchase chrome wheel nuts, as the factory 12×1.25mm Nissan nuts would not fit the rims, and the chrome 12×1.5mm Civic lugnuts wouldn't fit the Sentra's studs. Also, the Sentra's tire iron (which doubles as scissor jack crank handle) is designed for 21mm lugnuts, but was too big in diameter to fit in the rims.
I bought a set of lug nuts from the Kal Tire, and a set of lock nuts from Canadian Tire which included a 21mm-wrench-to-19mm-lugnut adapter to fit the smaller lug nuts with the larger lug nut wrench! Excellent!
These lug nuts turned out to be garbage. The chrome chipped and the tapered seat was beginning to be deformed by the oddly-shaped holes on the race wheels (also garbage. 4×4″ IS NOT the same as 4×100!), which was beginning th ruin the stud threads.
I then bought a set of McGard "tuner" spline-drive wheel nuts with locks, and they have been exceptional!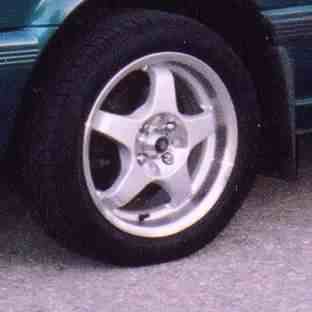 No-Name mags
Diameter: 15″
Width: 6.5″
Offset: 38mm
Bolt Circle: 4 x 100mm and 4 x 114.3mm
Street Tires
I had the Kumho 712′s transferred from the Civic's wheels, which fit much better on a 6.5″ rim. The 7′s are too wide for a 195/50 tire.
The 712 is classified as an "Ultra-High-Performance" radial. This particular size has a tread wear rating of 320. The tire is a little noisy on the road, although not given to squealing when pushed hard like some tires. I found the tire to perform very well in the wet, and had never experienced hydroplaning with them (that is not to say it does not happen). I have never autocrossed with them, but I would buy another set for the street in a heartbeat. They are very inexpensive for the quality of tire you get.
Unfortunately, they do not last very long. One set lasted me about 12 months of driving (two summers). Keep in mind that I have a rather heavy right foot, and that since the Sentra is lowered, the tires wear considerably faster (control arm angles, NOT alignment issues).
I ran a used set of 712′s from a friend who loathed them. He gave them to me after picking up four nails in one tire, and he went to Yokohama A520′s. These used tires lasted me a year and a half before I replaced them with a discontinued sale on Kumho 711′s from the Tire Rack (shipped to a receiving company south of the border to save on UPS Brokerage fees). Softer sidewall, quieter, but strangely wider than the 712.

Kumho Ecsta Supra 712

Kumho Ecsta V711
Autocross Wheels
The most recommended wheels and tires for autocross are the widest, shortest ones you can fit. I intended to run 13″ wheels, but needed to determine the best width and offset. In order to meet the legal requirements for F/SS, I had to ensure that no tread was visible from directly above the fender. There is enough room on the Sentra to run 13″ wheels with 5″ backspacing, providing there is minimal sidewall extending past the edge of the rim. A 13×7″ should fit perfectly, and still keep the tires under the fender.
The deepest backspace I have found in an affordable 13×7″ wheel is from Pete Paulsen's, who offer almost any backspacing you can get. I ordered 5″ backspacing.
I spray-bombed them Tremclad black since it was cheap, and easy to touch-up.
These wheels did not stick past the fender, keeping within the rules for my class. With 205/60R13 Toyo RA1′s and -1° camber, I was just able to get the tread to tuck back under the fender. The rims are also far enough from the strut that I could run 215/50R13 Kumho or 225/45R13 Hoosier R tires in F/Street Prepared later on – a more versatile choice of wheel in the long run, I think. A deeper offset would prevent wider tires, and in F/Street Prepared wheels can stick past fenders.
The Pete Paulsen wheels were unsatisfactory as far as quality. Three of the four had to be cut apart and re-welded true. Backspacing was inconsistent, two had the centre welded crooked to the rim. Paulsen's customer service over this was good they shipped me a replacement wheel within two weeks (I still had to pay UPS!!!! Grrrr), but the centre was a different style and the backspacing different again from the others. The wheel is really a 4 on 4″ bolt pattern which has the potential to put unusual strain on the 4 x 100 wheel studs. This has caused a number of wheel nuts to become damaged, pinching the stud thus damaging the threads, jambing the nut, and shearing off the stud. I have replaced 10 studs so far, and I keep a bag of wheel studs and wheel nuts in my race tool box…
A friend who also bought a set of these wheels had all four crooked. Paulsen's sent him four more as replacements (taking over a month (or was it two?) to ship), and all four replacements were ALSO crooked. He took them to a machine shop in Richmond who discovered that not only were they crooked, they weren't even round.
I would not buy these wheels again, nor would I recommend them. More reputable companies are:
Mini Stock Wheel Suppliers
R Compound Tires
I ran Toyo Proxes RA1 tires in both 185/60R13 (August 2001-September2001, 13×5″ rims) and 205/60R13 (April 2002-July 2003, 13×7″) size. The tires have a tread wear rating of 40, have directional tread and are probably the most inexpensive R tires on the market. Until recently I had sponsorship from Toyo Canada.
Toyo offers the RA1 in only two 13″ sizes: 185/60R13 and 205/60R13. I had originally decided to run the 185′s because they are a very short tire which assists me in acceleration, and lowers the center of gravity slightly. The 205, although wider, is the same height as the factory tires. I decided on the 205 basically because it was wider and the softer sidewall should make the car's "loose" suspension more predictable. In the end, it was a poor choice, and I would have been much better off using the 185/60R13′s.
I wrote up a proposal, asking Toyo to produce a 215/50R13. Toyo's official response?
"No"
So now I run Kumhos.
I ordered a set of 215/50R13 Kumho V70A's from The Tire Rack which saved me $10CDN from ordering them in Canada. Well, all the 13″ tires in Canada were sold out, so it really wasn't for the savings….
UPS dinged me heavily – $175 in brokerage. If you find a way to bring them over the border yourself, you can save some good money.
The Kumhos are the same width as the 205 Kumhos, but because of the design, there is actually about 3/4″ more tread on the Kumhos. My first impression when they arrived: "Holy smokes these are wide!" In order to fit them on the Sentra and remain F/SS legal, you MUST run more camber up front. In the neighbourhood of -2.5° or more. At -1° There is almost 1/4″ tread showing outside the front fender.
At the time of this writing, I have heat cycled the tires only. They were a bit noisy (rumbling) over my street tires, but nothing unusual. After 10 minutes it wasn't noticeable. The sidewalls are much stiffer than the 205 Toyo's, but not as stiff as the 185/60R13 Toyos. The grip seems good, but I will post more feedback in time.
The V70A come in only the softest compound – K6A. Next hardest is K8A, then K9A.

Toyo Proxes RA-1

Kumho Ecsta V70a