[ Start ] [ Wheels & Tires ] [Bushings ] [ Springs & Struts ] [ Sway Bars ] [ Alignment ] [ Drivetrain ] [ Miscellaneous ] [ Racing ]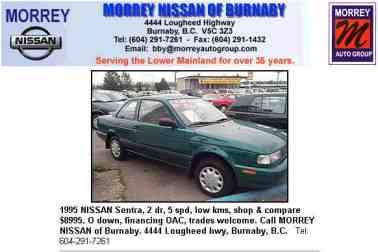 I purchased this car in the July of 2001 to replace the aging and decrepid Heinous Honda which I built and successfully campaigned in the CACC H/Stock Autoslalom Championship Series.
Wanting a new project and a new challenge and preferably one in better shape, I researched various cars to build and decided upon a Nissan Sentra.

Why a Sentra?
A Nissan Sentra is…
equal in weight to a Civic Si
equal in horsepower to a Civic DX
greater in torque than a Civic DX
40% cheaper than a comparably equipped Civic
different (everyone and their dog owns and races a Civic)
less likely to be abused by people like me
less likely to be broken into
less likely to be stolen
less likely to attract undue attention
Classed in slower (less expensive) classes
This car was prepared to the CACC F/Super Stock class rules and run competitively from 2001 to 2004. The car was retired to street use in 2004 and sold in 2007.
The majority of what I have done has been included here – please use the "menu" to your right to negotiate the Sinister Sentra pages. Frustrated with limited information on many web pages (including some of my own), I have tried to include the answers to all the questions I had, or at least provide the information required to undertake the task.
If you have any comments or suggestions, please feel free to contact me.
I will endeavour to document everything that I do with the car, and try to take lots of pictures. (I tend to get excited in a project and forget to snap the pics!)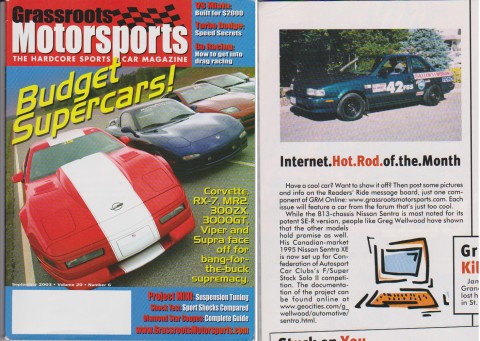 The Project Ends!
The Sinister Sentra was sold complete (but with the stock spring, shocks and sway bars installed; the others in the trunk) in the winter of 2007 as its usefulness to me was over. I really needed a truck, and the Locost was MUCH faster.
Disclaimer
As a cautionary note, please be sure that you know what the heck you are doing if you try to duplicate what I have done. I am a competent welder, designer, machinist and mechanic. I am not responsible in any way for your actions. You have the right to accept or reject any information given here, and you probably should get a second opinion anyway. Just because you "saw it on the web" does NOT mean that it is right, smart, logical, safe, practical, correct, or truthful. Use the brain you came with, or borrow someone else's if you have to. If you have questions, be sure to email me.