[ Lethal Locost ] [ Body ] [ Chassis ] [ Drivetrain ] [ Suspension ] [ Electrical ] [ Interior ] [ MegaSquirt ] [ Registration ] [ Driving ] [ Racing ] [ Miscellaneous ] [ Media ]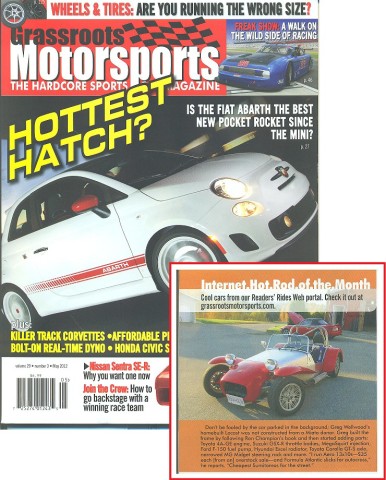 Grassroots Motorsports Magazine's Internet.Hot.Rod.of.the.Month, May 2012
Is YouTube taking over the world?

Build Slideshow, set to Blue Ridge Mountain Boys "Under the Double Eagle"

Co-driver's first run on our postage-stamp lot

The trip down to the Canadian Autoslalom Championship, 2007, set to Yello "Drive/Driven" and Grim Fandango "Bone Wagon"

Rained all night. Cold track. Wet track. Cold slicks. And I was the first car out.

Autocross with the Kelowna Corvette Club, Vernon Multiplex, 2008

The trip down to the Kumho Super Challenege, Pitt Meadows Airport 2008