Acquired from a friend, I had worked on this car off and on from 1997 to 2000. I had intended to use the drivetrain for my illustrious V8 Chevy Sprint project that never materialized (actually, it DID, only later). The car was purchased new by my buddy's grandfather in 1978, who put very little miles on it.
My friend inherited it and drove it to and from university for years. It was well taken care of, however it was starting to show it's age. My friend couldn't sell it, so he gave it to me.
I couldn't sell it.
While it was stored in the Autoshop compound, some lovely students continuing to fill a much needed void, smoked pot in the car, carved "4:20" in the steering wheel. They also kicked in the windshield, side mirrors, tailights and headlights.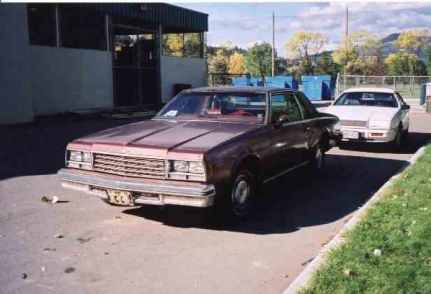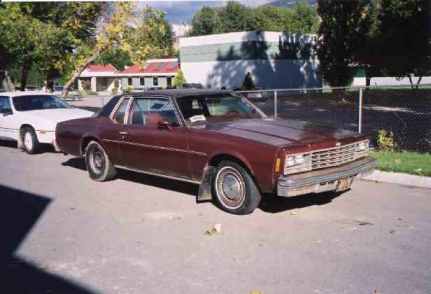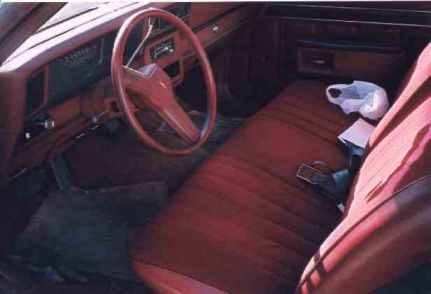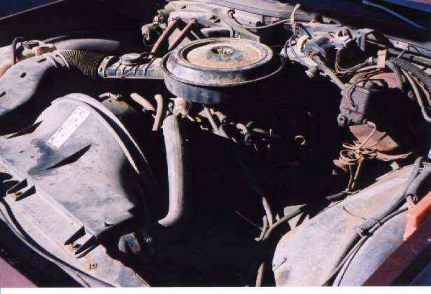 There's only one thing to do with a car like this…..
Lowrider
So we've been using the Impala to explore the various facets of Hotrodding we are usually too responsible or too chicken to do. So far we have accomplished the following:
Bodywork
Gutted the interior
Gutted the engine compartment
Removed the door window frame
Skinned the doors
Skinned hood and trunk
Shaved the door handles
Fabricated clear tail lights
Fabricated tilt-nose front end
Chopped roof 5″
Painted Tremclad flat black with yellow flames
Engine
Installed a Rochester Quadrajet
installed chrome valve and timing covers
Installed a performance camshaft
Fabricated open-filament air filter
Fabricated headers
Suspension
Reversed the rims
Cut one coil off the rear springs
Cut two coils off the front springs
Drained shocks and filled with 50W oil
Interior
Fabricated a chain-link steering wheel
Lowered steering column
Fabricated instrument cluster
Installed P195/50R15 Kumho Ecsta 712 tires
Installed "lowered" S-10 bucket seats
After we had finished changing camshafts (305 eats cam lobes – Film at 11!), some unidentified student, mercifully free from the ravages of intelligence, anonymously dropped a screw down the carburetor which we found when it embedded itself into the head of the piston at about 1500rpm.
Pulling the cylinder head to remove the screw showed very little cylinder wear – a testament to frequent oil changes and good maintenance!