[ Hideous Hardbody ] [ A/C ] [ Bodywork ] [ Bushings ] [ C-Notching ] [ De-Arced Leafs ] [ Driveshaft ] [ Drivetrain ] [ Exhaust ] [ Lowered ] [ Wipers ]
I hate bodywork
The front fenders are both 4WD fenders. The truck came with a passenger side 4WD fender only. I bought a driver's side one from Pick-and-Pull for $20 on a 50% off sale, fixed a bit of rust, primered, and paid cash and no receipt from my favourite body shop to spray basecoat and clear (Nissan BN3).
The front valance panel is still a 2WD one, which does not fit the 4WD fenders. Theoretically, only the corner pieces differ, however you cannot buy just the corner pieces. I found one at Pick-and-Pull, but didn't notice how bad it was until after I got it home. I haven't decided if I will fix it or not.
The passenger side rear fender arch has already been replaced at some point in the truck's life. The driver's side had come. I don't particularly care for bodywork. Luckily for me, I have a friend who doesn't barf as violently as I do when it comes to cutting/shaping/welding/grinding/barfing.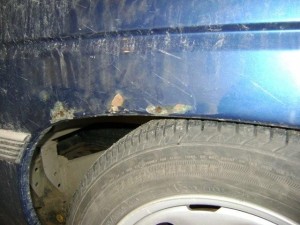 Cut out the nasty.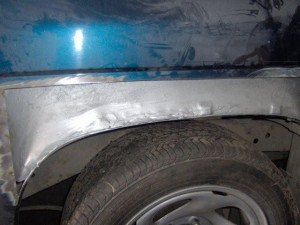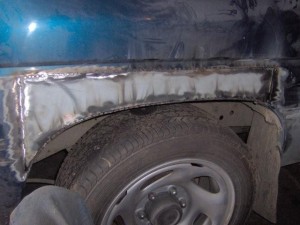 Trim and tack the replacement panel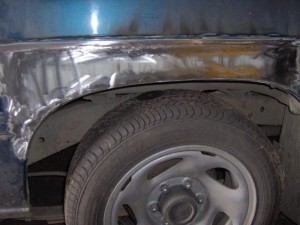 I did the final filling and sanding to get the shape right, and bought a DeVilbiss Finishline HVLP gun to spray the paint. The DeVilbiss gun came with a 1.3, 1.5 and 1.8 tips – I used the 1.8 to lay down a thick layer of high-build primer, then used the 1.3 for the base and clear. Two runs in the clear, but they can be easily sanded out. I really like this gun. It was really easy to use, and other than me getting greedy with the clear, did a great job.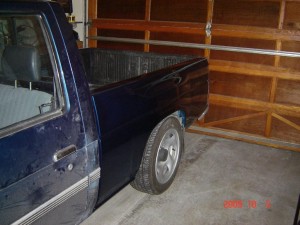 The secret to painting is to lay down enough clear that when you finish sanding out your defects, you still have some clear left.