In 1988 I had the opportunity to purchase my first Honda. I bought a rusty, yellow '77 sedan with a roasted motor for $250. I rebuilt the engine, did the brakes, carburetor, some wiring, added a simple stereo (with one of those under-dash 40W boosters), and some flashy paint (which now looks so '80's). It was a real eye catcher.
After it had been on the road for three months, it got rear-ended leaving a parking lot. In one more month I lost control on an icy corner and plowed straight into an oncoming vehicle. Six months later the car was struck again in a parking lot.
It seems that flashy paint is not necessarily safer.
Around the time I got it back on the road, I took the back seat out, paneled it over and installed two 10″ woofers and another amplifier. This lasted about a month before I decided I wanted the seat back.
I then bought a blue '78 hatch with a blown motor and a big Alpine amplifier for $750. I stripped out my yellow Civic, and swapped everything over. I also replaced the entire front suspension and exhaust, and added a fancier stereo (digital – oooh!) and used the Alpine amp with some better 6×9 speakers.
I later sold the Civic for $750 and have never seen it again.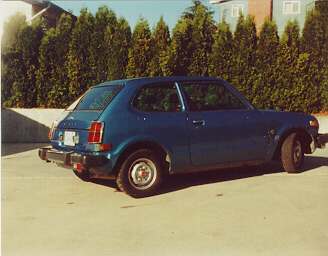 In 1997 I went to an SCCBC race in Misson, BC, and fell in love with a white Civic that a gentleman from Kelowna was racing. I decided I had to get another car, and while searching for information, I ran across a number of neat-o links for early Civics.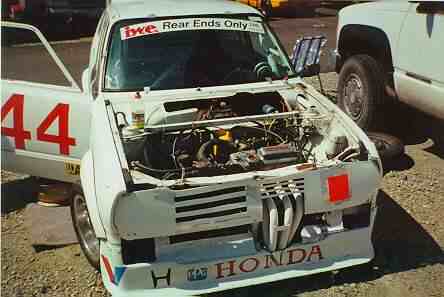 The early Civics are great handling cars, and a few things can be done to hop them up, although speed parts are becoming increasingly difficult to find.
Downdraft progressive Webers are easily adaptable. Side draft may require offsetting the distributor.
Putting an EB1 Cylinder head on an EB2 block will net about 11:1 compression. The EB2 unfortunately, has the better ports and valves. I recommend forged pistons for this, as compression this high does nasty things to cast pistons.
1335cc Engines can be swapped, and I went to highschool with a guy who put a 1751 Accord engine in a '78 Civic – that thing was FAST!
I recommend buying "Honda Performance Handbook" by Glenn Marston (ISBN:0-87938-387-9). It is chock-full of information on these and all Hondas.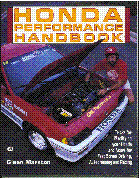 Sorry, no longer in print