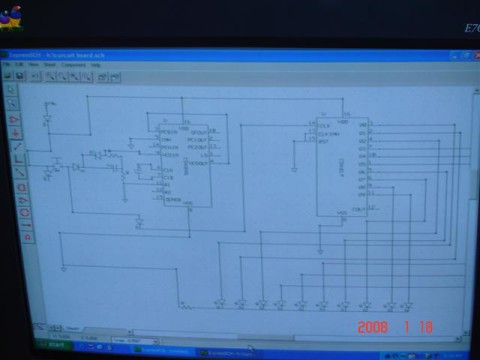 This is the follow up to Electronics Level 1. The program builds upon the basics with a more thorough look into Electronics and Electronic Systems, and involves more complex projects and theories.
Projects often vary dramatically from year to year, ranging from FM Radio Transmitters, a 555-powered circuits, Beam Robots, Battle Bots, Digital Logic, etc.
The general course outline is as follows, and is subject to change.
Shop Safety
What makes a good Electronics Student?
Electricity review
Electronics review
Resistor Code review
Capacitor Identification review
Semiconductor review
Ohm's Law
Capacitors
Time Constant (RC Circuits)
Breadboarding review
The Design Process
Soldering review
PCB design review

The 555 Timer
Circuit Design
Tool Safety
Enclosure Design
Enclosure Fabrication
Alternating Currents Circuits
Transformers
Half and Full-wave Rectification
Amplifiers
Robotics
Radio-Frequency Communication Systems
Alarm Systems
Audio Systems and System Design
Projects
FM Radio Transmitter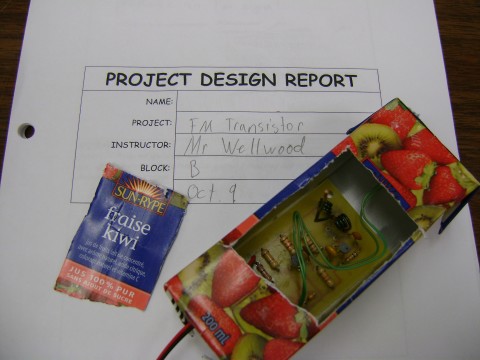 555 Alarm- works with two 555′s

Alternate: 556 Alarm – Same as 555 alarm, but works with one 556

Cutcher 741 Amplifier – A mini walkman amp

Zapper- a Nerve Testing Game

Snoop Tube – Spy Equipment

Hide and Seek Robot
Evaluation
Practical Shop Work – 50%
Theory Assignments and Quizzes – 50%
The Practical Shop Work Mark is based on productivity, work habits, safety and cleanup while working on assigned projects, or assigned labs. The student will fill out a Technical Activity Report of work completed at the end of each period which will be assessed a mark out of 5, per day. A variety of labs will be assigned.
All students are expected to treat others with respect.
Absences do not excuse assignments.
This is an Educational Facility not a Repair Facility, and as such, no "outside work" or "for money" work is to be done. Mr. Wellwood will not "do the work" for you, be it using the tools, using the service manuals, or troubleshooting. YOU are the motivational force behind your success in this course. You give me your commitment, I will give you my help.