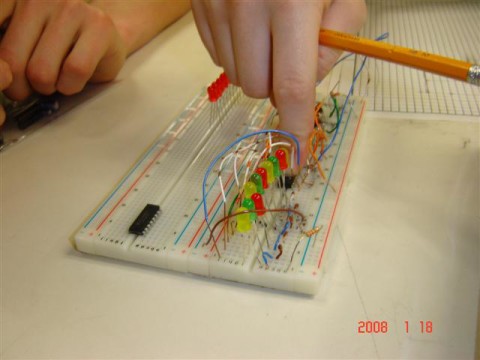 This is an introduction to Electronics-based Technology. The program encompasses electronics but is much more than a traditional electronics program. This course involves the study of systems and how they integrate with one another.
The course outline is as follows, and may vary in projects from year to year. In past years, we built fibre-optic signs, and 10 LED sequencers. Some students have also begun work on small audio amplifiers as a bonus project.
What is Electronics?
What makes a good Electronics student?
Shop Safety Booklet
Electricity as Energy
Complete paths
Electrons
Introduction to Electricity
Types of circuits
Systems
Introduction to Electronics
Electronics Topical Presentation
Electrical Safety
Breadboarding
Simple Circuits
Schematic diagrams
Use of Ohmmeter
Use of Voltmeter
Use of Ammeter
Introduction to Enclosures

Tool safety
Introduction to Sketching
Dimensioning
Soldering Practice
Logic
Binary
Monostable/Astable Circuits
RC circuits
Transistors
CAD schematics
Printed Circuit Board Design
WHMIS
Etching
The Design Process
Material Science
Production Planning
Enclosure Construction
Electronic Presentations
Bonus Projects
Projects

4011 Monostable – Turns an LED on for 10 seconds and then shuts off

4011 Alarm – Produces an audible alert for 10 seconds and then shuts off
Completed project:

4046 VCO – Voltage controlled oscillator – 10 LED Sequencer (1 of 3)

4017 Decoder – 1 of 10 decoder – 10 LED Sequencer (2 of 3)

4017 6 LED Sweeper – 10 LED Sequencer (Alternate 2 of 3)

4017 Electronic Dice Roller – 10 LED Sequencer (Alternate 2 of 3)

Timed Off – Timed off circuit – 10 LED Sequencer (3 of 3)
Completed Project:
Evaluation
Practical Shop Work – 50%
Theory Assignments and Quizzes – 50%
The Practical Shop Work Mark is based on productivity, work habits, safety and cleanup while working on assigned projects, or assigned labs. The student will fill out a Technical Activity Report of work completed at the end of each period which will be assessed a mark out of 5, per day. A variety of labs will be assigned.
All students are expected to treat others with respect.
Absences do not excuse assignments.
This is an Educational Facility not a Repair Facility, and as such, no "outside work" or "for money" work is to be done. Mr. Wellwood will not "do the work" for you, be it using the tools, using the service manuals, or troubleshooting. YOU are the motivational force behind your success in this course. You give me your commitment, I will give you my help.