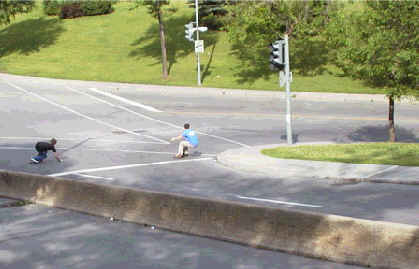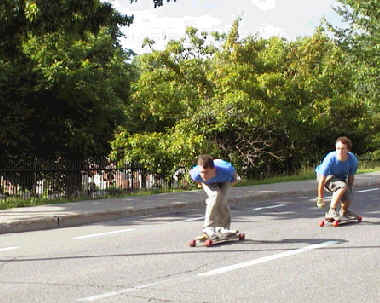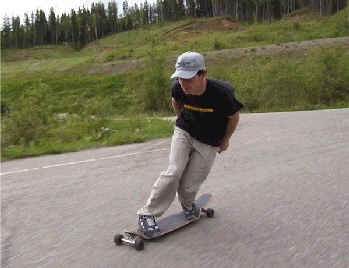 I tried skateboarding when I was 15. I found an old fibreglass 60's board in the back of a truck my dad had bought. It had groovy psychedelic gellcoat on it. I acquired some trucks, and fell on my butt every time I tried to ride it. I sold it at a garage sale for $5 and never looked back.
During university, my buddy Jody got into making his own skateboards. He had made his own press and started experimenting with different deck designs. He developed the Landyachtz DH board, which he raced competitively throughout North America. I found this board to be really easy to ride – much more like a snowboard, in a way.
The next design was initially called the Nitrous, but later became known as the R. This design took quite a bit of the steering out of the back, and some if the steering out of the front, also with the dropped center.
This board is totally stable at speed – speed wobbles are a thing of the past!
50 boards were pressed, and all were sold – some on eBay. All were numbered releases except the first 8. One of these 8 I bought from Jody and have been slowly building up my balance and confidence at speed with the board.
My first adventure was at BCIT, traveling between parking lots on some inclines. I left the house thinking I should have brought gloves, and returned to the house wishing I had also brought leathers, pads and a helmet.
Once the skin had grown back and I had acquired all the necessary safety equipment, I tried again. From then on it just became easier and easier to ride the board. Now I am looking for fun hills through residential areas (less traffic) and I'm working up to bombing some local big hills.
Maybe I'll get some real motorcycle leathers first….
Jody (Shnitzel) can be contacted through Northern Underground Adrenaline Circuit.