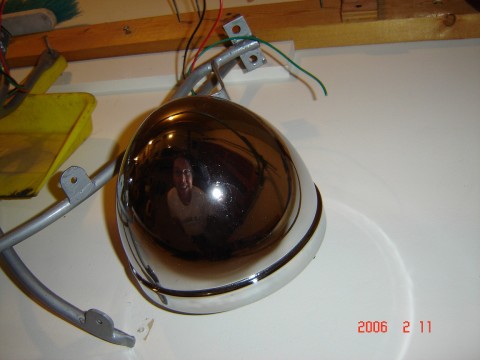 Mr. Wellwood is a high school shop teacher in Winfield BC, Canada.
You have no idea how passionate he is about cars.  His loving and long-suffering wife, sadly, does.
Growing up in a variety of towns throughout the province, he claims "no home town." The longest he has stayed anywhere, is right here.
Driven by efficiency of time, efficiency of materials, and efficiency of energy, he has a strong need for procedure, perfection, order, and organization.
He also struggles to meet self-imposed standards that he sets almost unattainably high. He has, at times, been labeled "intense."
Wellwood is most baffled by people and society, as they do not seem to subscribe to his surrealistic utopian expectations.  Despite a twisted and macabre sense of humour, he also applies a significant philosophical approach to the things he does.
In his teaching career, he considers himself a "Provider of Opportunities," focusing on employability skills – emphasis being Productivity, Preparedness, Resourcefulness, Safety, and Cleaning Up (these areas comprise 50% of the students mark).  Parents have commented that they wished all teachers emphasized these in the way that Wellwood does.
Upon first impression, Mr. Wellwood seems a bit unorthodox – you kind of wonder "where is he coming from?" and "I don't really know how to take this guy." Luckily, his twisted sense of humour and "shock value" approach is enjoyed by most.  So, there is balance.  The students say Wellwood is "very strict, and a little crazy."
Mr. Wellwood's goal in life: "I want to be be eccentric.  I want to be that crazy old man at the end of the street with all the wacky projects."
Some say he's already there….
2002 – Present: George Elliot Secondary School, Winfield BC
Drafting (current)
Electronics
Math
Maker (current)
Mechanics (current)
Metalwork (current)
Tech Ed
2001 – 2002: Kelowna Secondary School, Kelowna BC

Art Metal
Electronics
Mechanics
Power Mechanics
Tech Ed
1997 – 2001: Burnaby North Secondary School, Burnaby BC

Applied Skills 8
Electronics
Mechanics
1997: Student Teacher at Delta Secondary School, Ladner BC

Applied Skills 8
Electronics
Mechanics
Metalwork
Tech Ed
Want to get Philosphical?
Suspect Gifted <– This helped him understand himself better in 2012
Suspect Aspergers <– This helped him understand himself better in 2015
Contact Information
WAIT! Before you write me that hate-filled letter…..
It is never my intent to mislead you with the information on this site. Everything is as true and as accurate as I could make it at the time of the writing. Sometimes I go back over what I have written and make changes, sometimes I don't. If you are interested in merely criticizing my site, put some thought, effort and detail into your complaint.
Consider that everything you read on the internet is merely someone's opinion, and I have every right to express my opinion on a particular subject even if it differs from your own. I have endeavoured to be as non-judgmental as I can be so as not to offend you. If you are unhappy with what you do or don't find on this web site, you are free to leave.
Remember: this web site is free, and you got what you paid for. I didn't force anything on you, so get over it. If you feel you can do better, you probably can, so go out there and do it.
DISCLAIMER AND LIMITATION OF LIABILITY
THIS SITE AND ALL MATERIALS CONTAINED ON IT ARE DISTRIBUTED AND TRANSMITTED ON AN "AS IS" AND "AS AVAILABLE" BASIS, WITHOUT WARRANTIES OF ANY KIND, EITHER EXPRESSED OR IMPLIED, INCLUDING, WITHOUT LIMITATION, WARRANTIES OF MERCHANTABILITY OR FITNESS FOR A PARTICULAR PURPOSE. We are not responsible or liable for any infections or contamination of your system, or delays, inaccuracies, errors, or omissions arising out of your use of this site or with respect to the information and material contained on this site. The entire risk as to the quality, accuracy, adequacy, applicability, completeness, correctness and validity of any material rests with you. TO THE FULLEST EXTENT PERMISSIBLE PURSUANT TO APPLICABLE LAW, WE WILL NOT BE LIABLE FOR DAMAGES OF ANY KIND INCLUDING, WITHOUT LIMITATION, COMPENSATORY, CONSEQUENTIAL, INCIDENTAL, INDIRECT, SPECIAL OR SIMILAR DAMAGES, THAT MAY RESULT FROM THE USE OF, OR THE INABILITY TO USE, THE MATERIALS CONTAINED ON THIS SITE. Notwithstanding the foregoing, in no event shall liability to you for any and all claims, damages, losses, and causes of action (whether in contract, tort or otherwise) exceed the amount paid by you, if any, for accessing this site.
Have a nice day.
I welcome polite comments, suggestions and corrections; email me by clicking HERE (anti-spam tactic employed – please don't change the subject line).